Price Cards (Packages of 100)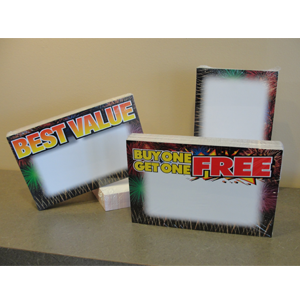 Price Cards (Packages of 100)
Give your fireworks stand, tent or store a professional look with these pre-printed price cards. Our entire line of cards are printed in full color! Space has been intentionally left blank on each card so you can customize with your own information, specials and pricing. All cards are printed on 10pt card stock. Sold in packages of 100. Sizes: 2.75" x 4.25", 4.25" x 5.5", and 5.5" x 8.5"
** The Red designs are only offered in the 4.25" x 5.5" size, while most Multi Fireworks designs are available in the 2.75" x 4.25", 4.25" x 5.5", and 5.5" x 8.5" sizes **
MULTIPLE SIZES AND STYLES ARE SOLD OUT FOR 2017. Please click through color and size for availability.