Wile Coyote Xtreme Pyro T-Shirt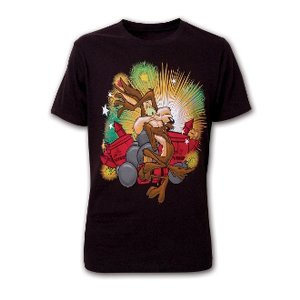 Wile Coyote Xtreme Pyro T-Shirt
EXCLUSIVE!! 100% cotton, preshrunk premium Black t-shirt. Screen printed with the Wile E Coyote Xtreme Pyro design on the front.
We are very excited to announce that we've been able to partner with Warner Bros. in licensing a Wile E Coyote tee that also incorporates our trademarked Xtreme Pyro logo. Wile is getting into more trouble than ever & watch out for what is stored in those Xtreme Pyro barrels!
Shirts licensed by Warner Bros. are premium 100% cotton tees with a thinner, softer feel than the Gildan Ultra Cotton tees that we use for our stock shirts. When compared to the fit of these vs. our stock tees, the torso fits the same, but the upper body/shoulders fit slightly smaller. Depending on how our stock tees fit you, you might want to consider ordering a size larger than you normally would.